AGILIS CA is in the running to take out 8 awards in one of Australia's most coveted SMSF awards. Having a finalist in 8 categories is more than any other accounting or SMSF firm in QLD and is a massive achievement for the team.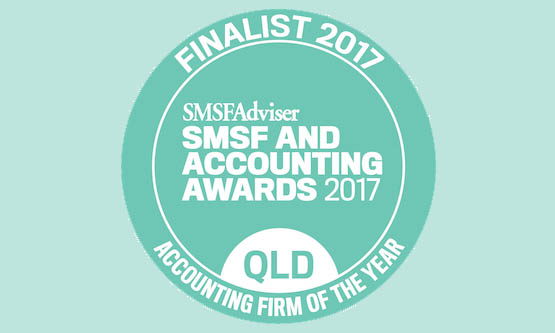 AGILIS CA & Advisors has been shortlisted as a finalist in the following 8 categories:
Individual Awards
Narell Nughes- Bookkeeper of the Year
Vijayta Gounder- Office Manager of the Year
Bert Girle- Partner of the Year
Company Awards
Accounting Firm of the Year
Community Engagement Program of the Year
Multi Service Firm of the Year
Small Business Adviser of the Year
Tax and Compliance Firm of the Year
Full list of finalists can be viewed here
This is hot on the back of Bert Girle taking out the prestigious Partner of the Year at the 2017 Australian Accounting Awards held at Sydney in May.
Peter Gee, General Manager of AGILIS CA & Advisors said, "to be recognised as a leader in so many different areas is quite humbling and is a massive credit to our entire team."
"Having Agilis being recognised for its excellent contribution to the accounting industry reinforces the strength of our brand in connecting with our target market and customers," he added.
The SMSF and Accounting Awards will recognise individuals and businesses that are making their mark in SMSF and accounting advice by championing professionalism, quality advice and innovation.
Founded in 2014, AGILIS CA & Advisors is a full-service tax & accounting advisory firm with client across all corners of Australia. Jaynesh Gounder, Managing Partner at AGILIS CA said "we've always set-out to help our local community and to represent them at these awards is a big deal to us. Without them, we wouldn't be where we are today."
Manager editor of SMSF and Accounting, Katarina Taurian, said that the winners "represent a cross-section of this state's outstanding professional talent, pointing to an absolute dedication to delivering specialist, unique advice to a burgeoning client base".
"Some top-performing firms and professionals are focused on doing business in their home states and locales, and we are excited to acknowledge the unique excellence and expertise they are bringing to their client base," she said.
The winners will be announced at a gala dinner at the Brisbane Convention Centre in Brisbane on October 26th, 2017.