Most businesses purchase fire insurance because they are aware of just how devastating and disruptive this type of event can be.
A cyber attack on your data, however, can be every bit as devastating as a fire and recent statistics are alarming.
Government statistics indicate that a staggering 693,053 businesses have experienced a cybercrime event in recent years. This figure represents 33% of all businesses and 60% of small to medium sized businesses.
Of the reported cyber attacks on business, 40% experienced business disruption, 29% information loss, 29% productivity loss; 25% revenue loss and 4% equipment damage.
The average cost of cyber crime per business was $276,323, of which 53% is on detection and recovery services.
Just as business interruption cover protects against a fire, Cyber Event Protection Cover provides for a reduction in revenue and the associated costs to manage the impact of a Cyber Event.
Modern protection needed for doing business in the modern world
Cyber security is a growing concern for businesses.  Protecting all elements of your IT infrastructure, such as hardware, software, networks and facilities against a cyber event is a business risk worth mitigating.
The risk of cyber attacks and data breaches is increasing in both severity and frequency.
Global interconnectedness and exponential growth of web enabled devices and social media has seen a related increase in cyber criminal and activist behaviour.
The danger exists regardless of the size of your business.  Handling customer or transaction data, you run the risk that a data breach could give rise to a material financial cost to your business or significant costs relating to third party claims.
What can you be protected against?
Cyber Event Protection responds to the following digital events:
 – Point of sale intrusions
 – Web app attacks
 – Insider and privilege misuse
 – Physical theft and loss
 – Payment card skimmers
 – Crimeware
 – Denial of service
 – Cyber espionage
 – Miscellaneous errors
 – Cyber extortion
How are you protected?
Cyber Event Protection teams are experts in their field and are designed to respond immediately to the potential threats to your business.
They manage the process on your behalf and keep you informed.
This gives you peace of mind that cyber experts are controlling the response and minimising the impact to your business.
What is Covered?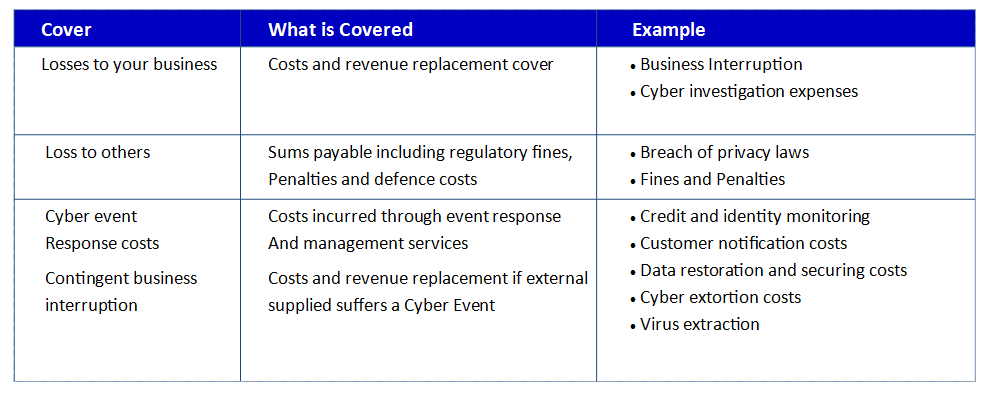 For more information on Cyber Claims Click the following links:
To arrange a quote for Cyber Event Protection click on the following link:  www.arminsurance.com.au
or contact ARM Insurance on 07 3278 2399 or jill@arminsurance.com.au