Looking at marketing your plumbing business?
You need to set yourself up with tools and tax structures then find customers so you can service and bill them efficiently.
Marketing Your Plumbing Business: Drawing In Customers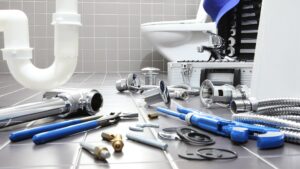 No point being the best and most competitively priced plumber in town if nobody knows about it…
Plumbers, like any other business, must advertise and sell their services to those who may need them.
But training as a  plumber does not prepare you for putting together a marketing plan.  Understanding your potential customers, where they source information and how they make decisions is vital.
Once you know who your potential customers are, you can target your marketing towards them.
Getting your marketing mix right can be a key to success. Getting it wrong can see a lot of money head down the drain.
There may seem to be a bewildering array of choices when it comes to marketing. But they can be distilled down to three general areas:
Online marketing is almost non-negotiable in today's business world. In terms of potential reach and cost-effectiveness, it is almost unbeatable. Most potential clients nowadays expect you to have an online presence – somewhere they can look you up, confirm your contact details, read about your business and, most importantly, read the reviews left by your customers.
So once you make that leap, you will almost certainly need some help designing a website and making the most of your social media platforms such as Facebook, LinkedIn, Twitter, plus Google, Google Ads and Search Engine Optimisation (SEO). They not only need to be set up – but they need to be constantly updated and used to remain relevant and effective.
If you decide to employ some marketing help, do your research and try to find a marketing firm that specialises in trade-related businesses. You can search for these online or ask your accountant for a referral.
Researching the websites of similar businesses and taking note of the positive and negative features may help influence your website design.
You have to start with the basics. Truck signage, work uniforms, business cards, letterheads and invoices should not only all carry details of your business but say something ABOUT your business. You need to think about the message that you want to convey to your existing and customers. Do you have a logo? What are your corporate colours? Does your business name convey the right kind of message? Can people easily read your signage and remember your contact details?
Then there's the next level of options: direct mail campaigns, advertising signage and advertisements in printed and broadcast media. Some of these can be expensive, so it is often best to seek some advice on how best to coordinate your online and offline marketing options to produce the best result.
It is far easier to gain a new customer who's been referred to you by a satisfied customer than to convert someone who is a cold prospect.
Whether it's a satisfied customer 'liking' and 'sharing' your Facebook page, or giving your business card to a friend, referrals can happen in both worlds. You must make asking for, and marketing to, customer referrals a significant part of your overall marketing strategy.
Marketing Your Plumbing Business: Pushing the Button On Technology
Online marketing is just one form of technology that will help drive your business.  But if you are planning to run your business with a manual invoice book and a shoebox for receipts you will very quickly be left behind your competitors.
Many free or inexpensive apps can be loaded onto your mobile phone or tablet that will help run your business more effectively and efficiently.
Invoicing systems and portable EFTPOS payment options can allow clients to be billed and pay immediately. Besides, there are apps like Everlance and Receipt Bank that will allow you to  track expenses and motor vehicle mileage
You can also attach bookkeeping software, like Xero, to your business bank accounts. This provides an up-to-date snapshot of your financials and facilitates an efficient relationship with your admin and accountants.
There are also websites and databases, like Hipages and Houzz, that are frequented by people interested in home renovation and will connect local tradies with potential customers. Others, like Airtasker, can be a source of connecting people who need jobs completed with those available to carry out the work.
To find out more about how we can help your plumbing business, head to our dedicated plumbing page.