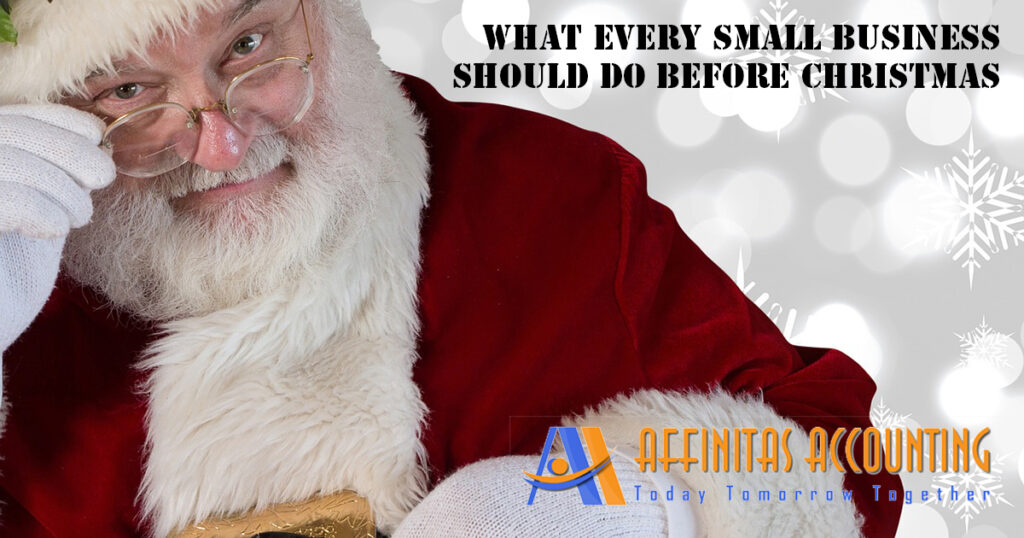 While Santa is double checking his naughty and nice lists, small business owners should make and review their own list of tasks to ensure the festive season shut-down and return to work is a jolly time for all concerned.
Get into the festive spirit
December is a busy time of year for most businesses trying to wrap up work before the holidays. But don't forget that the end of a year is also a great time to celebrate and acknowledge the hard work and achievements of your team over the past twelve months. Start by creating a festive environment and getting creative with Christmas decorations, activities and events. If you use social media, then include festive season themes in this communication.
Party Responsibly
If you are involved in Christmas festivities, particularly if alcohol is involved, make sure there is plenty of food and water available. Keep an eye out for any inappropriate behaviour and make sure plans are in place for everyone to get home safely.
Plan Your Cashflow
Christmas parties, gifts, holiday pay and (if you've had a great year) bonuses are all expenses that come up around Christmas time; so make sure you account for them well before the silly season approaches. Because many small businesses shut down and income reduces over this period, it is important to plan your December AND January cashflows.
Communicate Opening and Closing Times
Let your clients know, well in advance, when your business will be closing for the Christmas Holidays and when you will be re-opening. If you run a business that requires someone to monitor an emergency number, make sure that number can be accessed by those who need it and make sure there is a roster for those who need to monitor the number.
Out of Office Messages
Make sure your office signage, email bouncebacks and phone messages are professionally and consistency worded and communicate the essential information that any clients or suppliers need to know about your holiday shut down and reopening times.
Discuss holidays
If you want to take extended time off over Christmas, discuss this with your staff so you are confident that things will keep operating as they should while you are away. Delegate tasks to responsible team members and leave instructions for these tasks so that they can have something to refer to while you are gone. Pre-planning in this area will go a long way to ensuring that your holidays are not interrupted by calls from work. You also need to be mindful that you have staff resources available – so review who is away and back at work in January.
Christmas communications and connections
It may seem a bit old fashioned, but few things are as nice as receiving a personal, handwritten Christmas card at the end of the year. Consider sending one to every client, referrer and valued colleague. Or, if that's not your thing, then why not send a small present or show your appreciation to those who've helped you in some other way via client/supplier/referrer functions or use electronic media to send a message of thanks and festive season cheer to those people whose ongoing support is important to your business.
Think About The Year Passed and the Year Ahead
If your workload does start to ease off in December, you can use it as a valuable opportunity to analyse the year past and plan for the year ahead. Some of the tasks you might consider could be:
• Review clients won and clients lost during the year
• Analyse your referral sources
• Review Your Marketing Activities
• Review workflow and processes
• Plan Professional Development Activities
• Brainstorm Some Big New Ideas
Time spend on tasks such as these can help you hit the ground running in the New Year
Celebrate, relax and recharge
As a small business owner, each festive season marks another milestone when you have serviced your clients, supported your staff and kept the doors open. This is no small undertaking and something that not everyone is capable of achieving. Take a moment to congratulate yourself, celebrate your successes and make sure you take valuable time out to rest and recharge for the year ahead.