We are thrilled to announce that Bert Girle has been shortlisted as a finalist to win Partner of the Year (<1 billion revenue) at the 2017 Australian Accounting Awards, hosted by Accountants Daily – Australia's top publication for the accounting industry.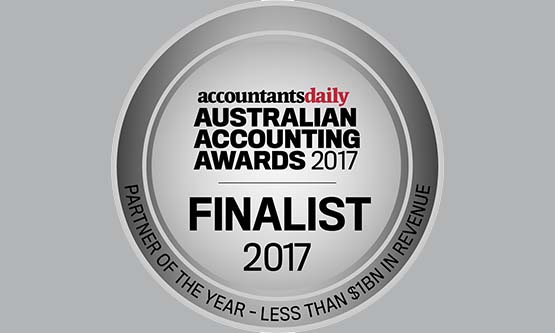 Now in its fourth consecutive year, the Australian Accounting Awards, which covers 26 categories, recognises individual excellence in accounting, from the profession's most senior ranks to its rising stars.
Jaynesh Gounder, Managing Partner for AGILIS CA stated "This is a massive achievement for Bert and Agilis. He has mentored so many accountants- being a CPA mentor and almost a life mentor for many over the years. Bert has been instrumental in creating the Agilis brand and we are thrilled to have been recognised as one of Australia's leading accounting firms."
Winners in the individual categories will automatically be shortlisted for the coveted Accountants Daily Excellence Award. In addition, Bert will be in the running for the Editor's Choice Award, which recognises an individual's outstanding contribution to the Accounting Industry.
"We broadened the awards program this year to better recognise the breadth and depth of the talent in this industry. For those who have made it to the finalist stage, congratulations, you have secured your place amongst Australia's leading accounting professionals," said Terry Braithwaite, head of partnerships at Accountants Daily.
"We are set for a superb evening when the awards are presented. The judges have a tough job on their hands this year and there no doubt will be huge excitement to hear their verdicts."
Bert Girl at AGILIS CA said he was humbled by the nomination.
Agilis' recognition for its excellent contribution nationally reinforces the strength of the brand in connecting with it's clients and understanding their needs" he added.
The winners will be announced at a black tie awards dinner on Friday, 26 May at the Sofitel Sydney Wentworth.
Congratulations Bert and best of luck in Sydney!