Coping with a sudden business downturn is no walk in the park; especially as a small business owner. The key to staying afloat, is to have an effective business plan and financial model.  Agilis CA is here to help you with this.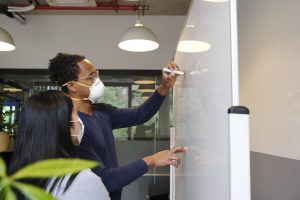 When the future looks uncertain, what can you do to prepare and strengthen your business?
Recent times have certainly shown us that the future path of your business can change in an instant – usually, due to influences that are far beyond our own control. The COVID-19 pandemic and the ongoing global economic recession have both had a negative economic impact on the business world – so, when a downturn strikes, you need to be ready.
For many small business owners, the COVID-19 pandemic is the biggest crisis they will endure, with many tough decisions having to be made, and business models/plans forced to be altered to accommodate the ever-changing times.
The pandemic has opened many business owners' minds to the potentiality of global crises that can heavily and unexpectedly disrupt their business, and they have experienced first-hand how to be resilient. Now more than ever, the business world is looking for ways to stay afloat and thrive.
The key is to be prepared, to have a 'Plan B' and to react in a proactive way to the uncertainty – but what elements of your business should you focus on to get your downturn plan ready?
How To Keep Your Business from Sinking 
To keep your business afloat, you will need to be agile, innovative, and resourceful. Being flexible in the face of adversity is also likely to play a big part in your survival.
No business owner has all the answers, and there are some important steps to take if you are going to overcome the challenges of a downturn and stop the business from sinking.
Here are 7 proactive steps you can take:
1. Enhance your Business Knowledge. 
Knowledge is power, and being in control of your business data gives you that knowledge. The latest cloud reporting tools; such as Xero (which is what we use at Agilis CA) can help you to understand the financial numbers and forecast the future path of the business, allowing you to make truly informed decisions.
2. Improve your Cash Flow. 
During a downturn, money will be tight and your cash flow position is likely to be poor. To improve this, you need to be proactive about reducing overheads, billing promptly, following up on overdue invoices and making sure that the minimum amount of cash flows out of the business, and the maximum flows in.
3. Negotiate with your Suppliers. 
If you can wrangle a better deal from your suppliers, that goes a long way to enhancing your cash flow position. Negotiate with your suppliers to agree on better terms, or cheaper prices, and talk to your landlord about a reduction in rent – or even a rent holiday if the situation is extremely dire.
4. Access Additional Funding. 
When your cash reserves get tight, there may be a need to look for additional funding. This could mean asking your bank manager for an extended overdraft, approaching business lenders for a loan, or even looking at attracting private investors or private equity firms that may want to pump money into the business – although, you will need a strong business plan for investors to be willing.
5. Evaluate your Market Offering. 
To generate enough revenues to survive, you need your products and/or services to be selling. To that end, it is worth evaluating your market offering and making some changes. Do some products deliver a much higher return than others? If so, you could make more money by focusing purely on these products and having a tighter and more profitable product range.
6. Evolve your Marketing and Sales. 
Communication with your customers during a downturn is vital. Keep them in the loop and let them know that your products/services are still there for them and re-evaluate your marketing channels, to make sure you are hitting the right audience. Is your online presence as good as it could be? Are you providing enough information on your website and social channels to help solve your customers problem? If not, what else could you do to bring in more enquiries and sales?
7. Learn to Pivot and Diversify 
Some sectors may tank completely during a downturn – for example, the travel and hospitality sectors were badly hit by COVID. If this happens, you may need to pivot into a new niche or sector to find a new audience and more revenue streams. You can also diversify your product range to meet the needs of a wider range of customers, bringing in more revenue streams and bumping up your cash position as a business.
It is all about having that Plan B in place. When (and if) a downturn hits, you are then primed and ready to respond.
Talk to us about getting the specific business advice you need.
The better prepared you are, and the faster you react, the more likely it is that you will ride out a downturn successfully. 
If you are looking to improve your business planning, upgrade your disaster management plan, or improve your financial model, contact Agilis CA today! 
Listen below as Agilis CA Associate Director Gene Herder discusses how Agilis CA engages in Budgeting and Measuring coaching with clients – helping them look at "what if?" scenarios so they are better prepared. 
This blog was originally published by BOMA, but has had edits made by Agilis CA for the benefit of our readers.