With the 2022 Birmingham Commonwealth Games well underway – and Australia performing exceedingly well – it is evident that teamwork makes the dream work, as whether athletes are competing in an individual or team event, when there is passion, support, and a common purpose – amazing results transpire.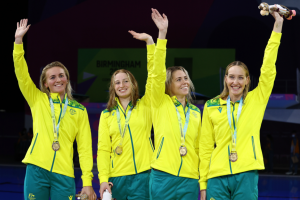 In the world of business, having a high-performing team in the workplace provides positive outcomes – such as increased motivation, collaboration, decision-making, productivity, performance (both individually and as a team), management, flexibility and innovation, satisfaction, and profitability. 
Our Australian athletes at the Commonwealth Games have shown just how crucial it is to be a cohesive, high-performing team to achieve greatness both individually, and together as a team. 
Here, we have 3 ways the Commonwealth Games can teach us about the importance of high-performing teams, in the workplace.  
Individual Performance Goals Largely Contribute To The Overall Team Purpose
Athletes in individual events push through remarkable mental and physical barriers to strive for a spot on the podium – most commonly to have the gold medal – or better again, break the World Record or have a Personal Best. When athletes have a goal in mind and something to strive for, performance is enhanced as it creates purpose, direction, and accountability. 
At a sporting event – such as the Commonwealth Games – even if it is an individual event an athlete participates in, if they win a medal, their medal contributes to the country's overall medal tally – with a country's goal being to rank as high as they possibly can. Thus, the individual performance largely contributes to the overarching team/country objective, and without individual performance goals, the team objective can't be achieved. 
The same concept is applied in the workplace. 
If employees are setting and achieving individual goals, their performance will contribute to the overarching team performance and ability to accomplish an objective – e.g., monthly revenue target. Thus, producing a high-performing team. 
Hitting personal targets are important, but to move a company forward, together employees need to be striving for the same goal, and purposefully unified.  

Competition Can Be Healthy
At large sporting events, it is common for individuals from the same country to be competing against one another in event finals – as the Australians have been doing consistently, in the swimming at the 2022 Commonwealth Games. 
Whilst wanting to be the best, they also want their teammates to succeed. It generates healthy competition. 
Having a teammate race alongside you can boost your motivation and elevate your performance – whilst simultaneously giving you someone to learn skills off. Through this, you better each other, and it presents an opportunity for you to evaluate your strengths and weaknesses moving forward. 
In the workplace, healthy competition can be a catalyst for boosting employee motivation. 
Through healthy competition, it puts a spotlight on individual achievement whilst also contributing to the team goal – as collaboration is key in a successful organisation. Humans by nature are competitive – and the competitive spirit derives from a growth mindset. 
Thus, healthy competition in the workplace can push an employee to work to their full potential, as they compete not solely with others, but also with themselves – just as a swimmer would as they try to attain a faster swim time. 
It also fosters goal setting and achieving – and innovation to accomplish these goals, as well as encourages collaboration amongst the team.
Team Support Is Fundamental In Achieving Success 
Whilst many Commonwealth Games sports encompass individual events, a big part of attaining success in those events is who you have behind you, cheering you on and supporting you. It's the same for team events. 
For athletes, this could include teammates, coaches, medical team, and family / friends. A combination of all these support networks is what pushes an athlete to excel. 
This is the same in the workplace – for individuals and a team to succeed, they require mentors and leaders, training and upskilling, and a positive, collaborative work environment to thrive in, where everyone wants to see their teammates succeed.