Agilis CA is here to explain why it is important to create a business plan, to ensure you can get what you want out of your business.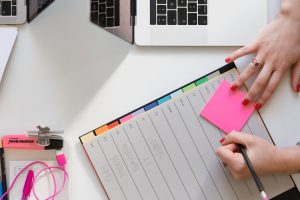 It is important to not be a slave to your business, and one way you can avoid this, is through Business Planning. A lack of planning and direction can equate to a lack of success.
Need help developing your Business Plan or achieving your goals? Agilis CA can help!
It is Time to Make A Plan
You know what you want from your business; so now it is time to plan how to get it.
Start by deciding what you want personally from your business. Where do you want to go? If you do not know where you are going, how are going to get there?
For example, if you need $100,000 p.a. to cover your living costs and a family holiday, and your overheads are $100,000, your gross profit needs to be $200,000. If your current gross profit margin is 50%, then your annual sales need to be $400,000.
Make sure your plan is linked directly to how you will achieve what you want personally from the business, e.g., $100,000 and a six-week holiday.
So how do you make this plan?
Follow these 6 rules below to create a solid business plan, and achieve your goals.
Business Plan Guideline:
1. Keep your plan on one page.
Double-sided if you must.
Position this page on your desk, or somewhere you can easily see it so you can look at it every day. It serves as a reminder of what you are working towards.
List the things you would like to achieve. Write down your goals and break them down into 1-year and 3-month goals, and create achievable action plans on how you will attain these goals.
2. Set a maximum of four main goals for the year.
These should be broken down into 3-month goals and include actions you can take to ensure you work towards your 1-year goal. Revise these every 3-months.
3. Identify five Key Performance Indicators (KPIs).
Any more than five and you will lose focus; it becomes too many. Pick the KPIs most likely to have an impact on your business and business goals.
4. Share the plan with your team.
Ensure your teams goals align with your overarching 1-year plan. Help and encourage them to define their own action plans and KPIs they need to achieve, that will subsequently help the business reach its goals. Everyone needs to work together, to achieve big business goals.
5. Keep the plan visible.
Track your progress against the plan and celebrate success with your team along the way. Make sure the plan is visible not only to you, but the team can also view a copy/has access to it.
6. Review your plan at least quarterly.
Make sure you are completing the action plans noted to achieve your 3-month goals, and ensure you are actively achieving the quarterly goals. Update the plan every 3-months with new goals and action plans that will further help and push your business to achieving the overarching 1-year goal/s. Having someone independently hold you accountable can help.
Contact Us About Creating a Business Plan for your Business
Your Business Plan is the most fundamental document in your business, as it acts as a how-to-guide to achieving what you want from your business; helping create a sense of direction.
Your business is there to serve you; you should not be a slave to your business.
Need help creating your plan? Contact Agilis CA today for more information about our Business Development services. We specialize in Business Planning, Growth and Advisory.
Watch our video below, as Agilis CA Associate Director Gene Herder discusses how Business Planning can help you plan a direction towards success. 
This blog was originally published by The Gap, but has had edits made by Agilis CA for the benefit of our readers that conforms with our own Business Planning advice.